Halloween will be observed at school on Friday, October 30. That day students may wear their Halloween costumes to school. Costumes must be such that your child's eyesight, hearing, ability to talk or be heard, write, sit in a chair or on the bus, or participate in physical education, is not hindered. Also, costumes must be appropriate for a school setting with nothing real or fake that would be prohibited by our school's student handbook, which can be found on the Hedding website. Please do not send candy or snacks with your child. A Halloween snack and treat will be provided by the food service department. Classrooms will not be having traditional Halloween parties, although students may enjoy Halloween themed activities during the morning. As such, to keep all students as safe as possible, parents and any outside visitors will not be allowed into the building that day. Dismissal will be at 12:30 p.m.

Please see the attached pic for picture day info this Thursday, October 22.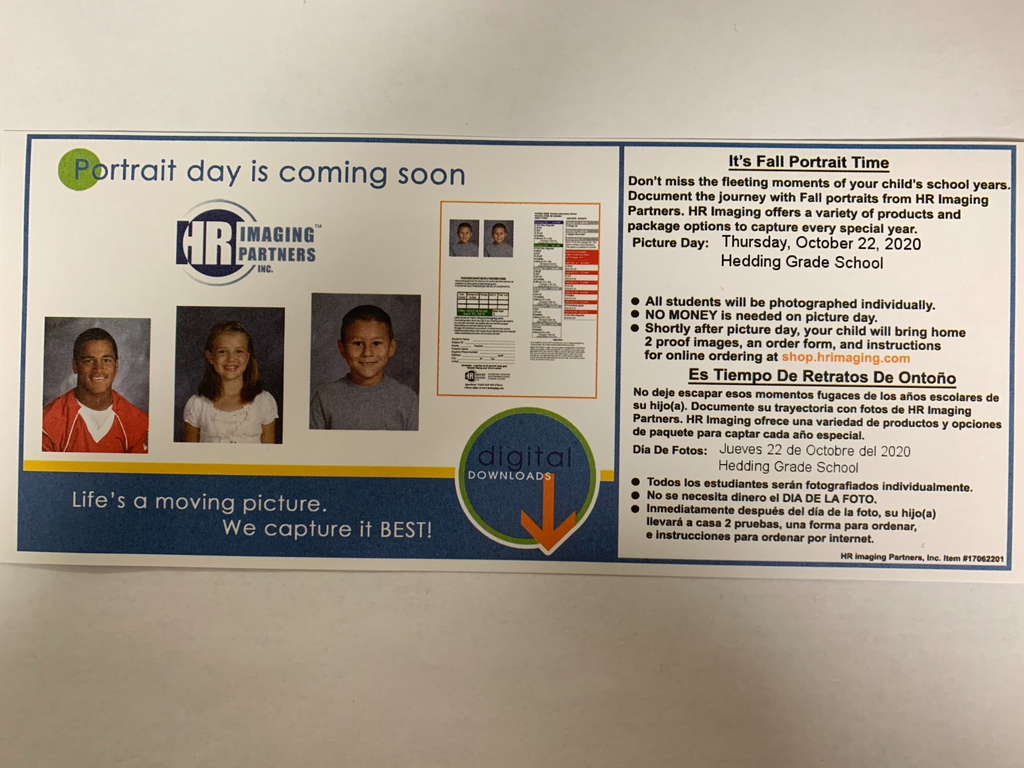 In order to provide the safest environment for our students and staff, PreK at Hedding will be cancelled again this week, October 19-23.

D276 Reminder: Tomorrow is now a Remote Learning Day. No in-person school on Friday. More information can be found in the News Section of the district website.



REMINDER There is no parking on the north side of Latimer Street 7:30-8:00 a.m. and 12:15-12:45 p.m.. for drop off and pick up of K-2 students. You may pull up on the north side and let your student out of your vehicle and move on. If you want to park, please do so on the south side of Latimer or on Swartz Street. For grades 3-5, no parking on the east side of Pennsylvania. Please just pull up and let your student out to enter the grades 3-5 playground, and the same for pick up at the end of the day.

Note for all families who are continuing with Remote Instruction and would like to pick-up a no-cost school lunch - please email our food service director at
dadmire@atown276.net



IMPORTANT Abingdon Transportation Information: As of today we are beyond our State Mandated busing capacity (48/bus) for our Abingdon routes. If you have any alternative options - please call your building principal to opt off a bus route. If numbers do not come down, the district will be forced to reduce the number of town riders in Abingdon. A reduction will lead to prioritizing three factors: 1. Country Riders. 2. Daycare facilities. 3. Proximity to Hedding Grade School.

New Music Classroom Update: This morning I sent out emails to Hedding student emails with join codes and join links for the new Music Google Classroom. These codes were only sent to students who have not currently joined the new class. To use the Join Code 1) go to the Google Classroom App 2) Finding the "+" button 3) Clicking Join Class 4)Typing in the join code from the email 5)Click Join Or you may use the join link in the email by just clicking and following the directions. Starting this week all music assignments will be on the new classroom and will be used even after we return to in person learning. The old Amp class is now PE only. If you have issues joining the new music classroom or you are not in the music classroom and didn't receive a join code email please email me at
arakestraw@atown276.net
ASAP.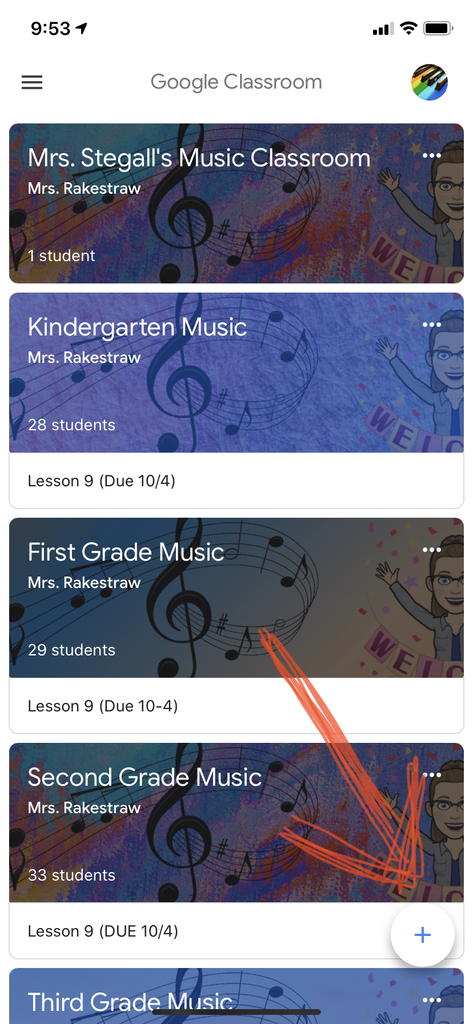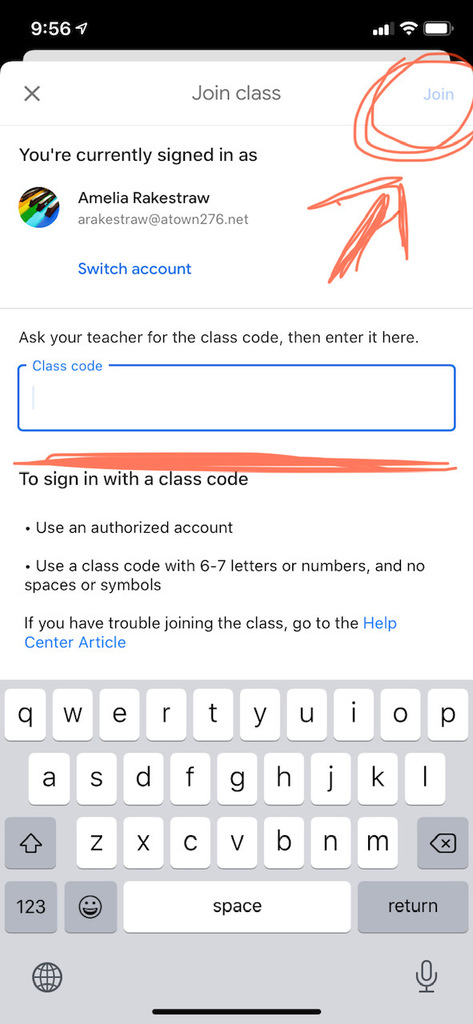 🚨1 week until D276 returns to in-person. Three things you can do today to assist in the final planning: 1. If you plan to stay in Remote - call the office and let them know. 2. If you plan to switch from your original choice of remote to in-person - call your office and let them know. 3. If you stated during registration that you will need transportation- but now can find alternative transportation- call your office and let them know.



IMPORTANT REMINDER: Please make sure you join the NEW MUSIC google classroom. You may need to refresh your google classroom app so the invite will pop up. It will be on the page where all the classes are listed. We will be using this for both in person and remote learners starting OCT 5th. Let me know ASAP if you have issues or need help. LETS MAKE IT A GAME! Tell your friends and family to join If I can get 90% of the school joined by October 1st I will dye part of my hair PINK for the first week of school!!!!! We can do this!!! Right now we have 62%. OVER HALF WAY THERE!!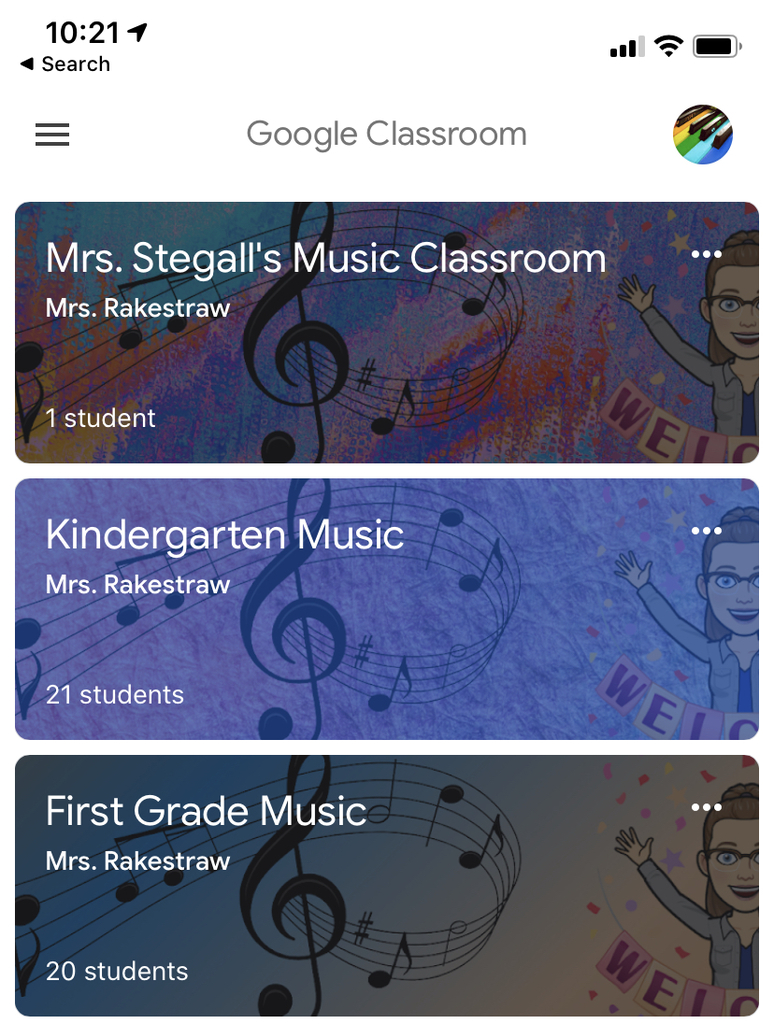 New Music Google Classroom for Return to school: Hedding Music Classes will now have a new Google Classroom. As we return to school I have found it necessary to have Music classes separate from PE. The Current AMP( Specials) Classroom will change to a PE only classroom on Monday the 28th. DO NOT DELETE THE AMP CLASSROOM. Invitations were sent out to Hedding students ipads yesterday for their new music classroom. All students need to do is click join. With this change I am able to post grade specific lessons that will make finding lessons and loading lessons easier and faster. PLEASE do your best to join by Monday 9/28. If you have questions on how to join, your child was sent an invite to the wrong grade, or the new classroom did not pop up EMAIL ME at
arakestraw@atown276.net